How I Met My Canine Career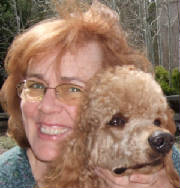 I've been training dogs since I was 7 years old. My first dog, Lassie, was a border collie with a mind of her own, and ideas to match.

With patience and repetition for the both of us, we learned to "talk" without words. Hand signals, sounds, and more created our personal communication.

Since then, I have had the pleasure of many canine friends, some fosters, some my forever companions. I am currently training dogs to be service animals for the disabled, dogs for working in town and country, basic obedience 1,2,3, and the ever popular "party tricks" that are just for fun.  

My research of the field of the canine/human bond spans over 5 decades. I'll admit, I have had my share of errors and mistakes - but with that has come vast understanding and growth. It is very important to remember in your relationships that you and your dog are both learning about each other, and "slow" is the true "fast" in dog training.  
Once your canine friend really knows a command/communication, then he/she can do it, but not before.  
Now I'd like to share these tips and insights with you as you create your own communication with your very own canine friends.  Even if your canine does a behavior, it must be related to your request in order for the behavior/activity to be on command and not 'at will'.
Join us here for information, news, training tips, and maybe you will add a class or two as well.  Our goal is to facilitate your best life with your canine as companion, and much more.